on Tue Aug 09, 2016 11:42 pm

Nimbuzzmasters
Msp@nimbuzz.com
on Fri Aug 12, 2016 5:09 pm
[mod]
| | |
| --- | --- |
| SHA256: | b5dd53750c73fb7a7a443b483e80b9458f429c6420520d64e656e3e130b2976a |
| File name: | TOF Decorative Flooder v1.0.0 Coded By th0ufeer.rar |
| Detection ratio: | 10 / 53 |
[/mod]
on Sat Aug 13, 2016 2:04 pm
[mod]oh kid .... Re-analysis it..... You did not know that this Scan Report Update after every few hours when av (Antivirus) get sample of Software They Analysis it again and Scan Report Update After Few Hours..... Now Check Scan Report and post Latest Virus Scan Report... You are showing me 3 days before Scan Report... DO not act like kids.... otherwise i will banned you From this Forum if you Post virus Here again..........[/mod]
on Sat Aug 13, 2016 2:15 pm
First Of All its your Virus Scan Report ... Why you did Not post ReAnalyse Scan Report Because if you reanalyse it .. It will show latest Detections....
Original and latest VirusTotal Scan Report of your Software is that....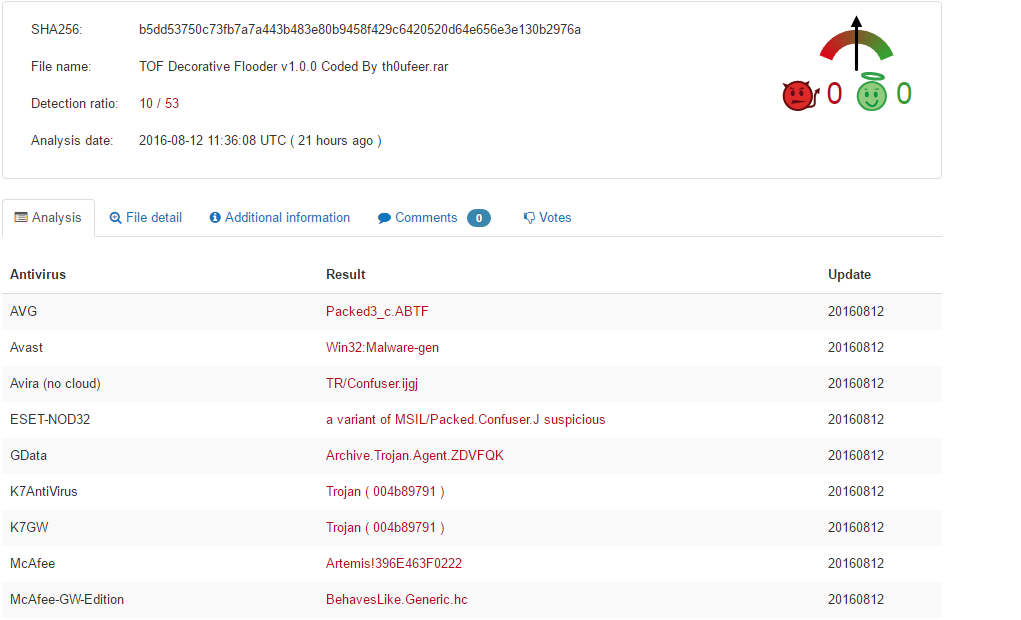 https://virustotal.com/en/file/b5dd53750c73fb7a7a443b483e80b9458f429c6420520d64e656e3e130b2976a/analysis/1471001768/
Its Last Warning for you next time your account will be banned if you post virus here...
Topic Locked..........
Note: The main reason of analysing software on Virustotal is that it send samples to AV (Antivirus) and antivirus Companies Reanalyse this sample and after some hours Virustotal update there Virus Scan Report....... My Pc is infected is Joke of the Year...... Who knows Viruses better than me hehe.. 

Permissions in this forum:
You
cannot
reply to topics in this forum