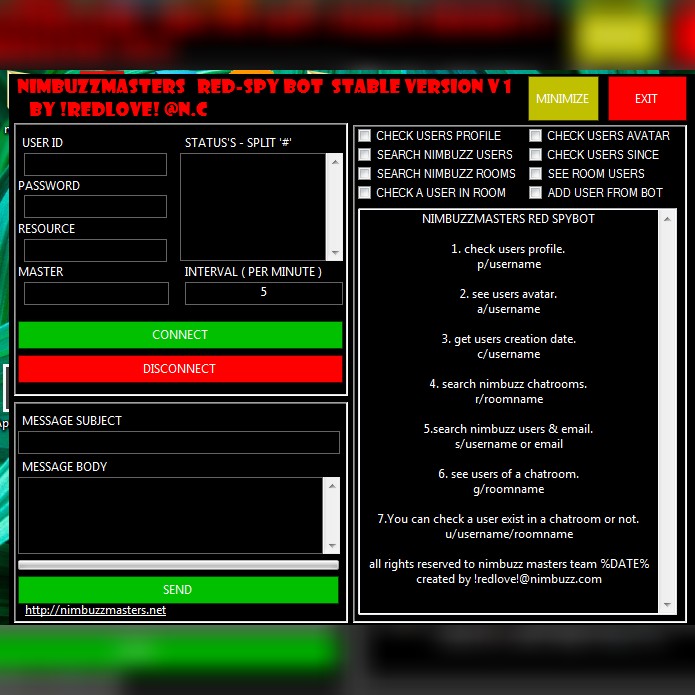 [You must be registered and logged in to see this link.]
Exe  file scan
[You must be registered and logged in to see this link.]
[You must be registered and logged in to see this link.]
NIMBUZZMASTERS RED SPY BOT COMMANDS
1.check users profile.
p/username
2.users avatar.
a/username
3.users creation date.
c/username
4.search nimbuzz chatrooms.
r/roomname
5.search nimbuzz users & email.
s/username or email
6.see users of a chatroom.
g/roomname
7.check a user exist in a chatroom or not.
u/username/roomname


Last edited by TOP-CODER on Mon Sep 14, 2015 11:39 pm; edited 1 time in total (Reason for editing : tG)
ηιλ⁄(вυzz λ⁄(αѕтєяs™
dear masters
:* How do I change my rank?
:* I have received a spamming or abusive e-mail from someone on this board!
:* How do I join a Usergroup?
:* How do I post a topic in a forum?
DO U HAVE ANY DOUBTS LIKE THIS?
[You must be registered and logged in to see this link.]
Or  add me !redlove!@nimbuzz.com
REAL LOVER HERE